About Endlessness Film Review – About Endlessness Shows How Life Is Like A Larger And More Infinite Slap Wrap.
Film Review
Roy Andersson, having worked in advertising for most of his life, filming hundreds of ads in order to purchase the sound studio where his sets are built from scratch, must have been thinking about one of the most infinite and endless pieces of merchandise when writing and filming About Endlessness, the Slap Wrap.
Known to many as the slap bracelet or the wrist wrap, the Slap Wrap is a bracelet that can exist in either a long flat state or, when slapped upon a wrist it can curl up and wrap around the arm acting as a bracelet. This type of engineering feat, where an item can have two stable mechanical shapes, is called a bistable structure.
Bistable structures, like the Slap Wraps mechanics, isn't just a human-engineered structure, they also exist in nature. A venus flytraps leaves are one example of a natural bistable structure that has two stable mechanical shapes. The leaves are able to exist in different states, opened or closed, without additional energy being used.
About Endlessness consist of a series of custom-built sets with a stationary camera showing vignettes of life in all of its absurdity. The combination of profound and mundane scenes help to show them all having equal weight in the endless march of time. That march could be literal in the case of the defeated army marching into Siberia as prisoners, or it could be as simple as watching a flock of bird march across the sky, or even, in one of the most visually striking scenes of the film, be a couple march together as they float above a destroyed city.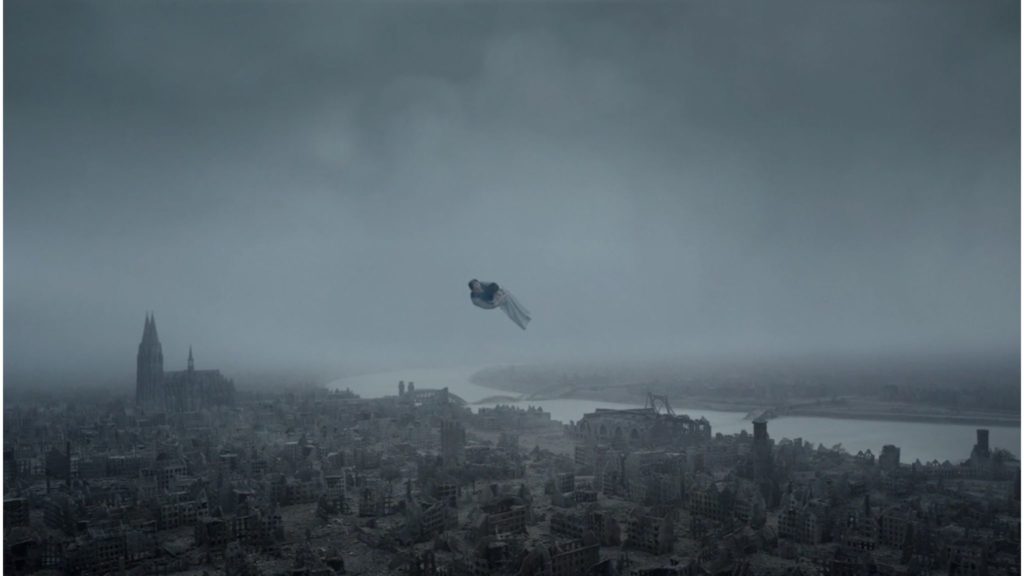 Humans are constantly in different states, sometimes they are exciting, sometimes mundane, sometimes funny, sometimes sad. But, like one of the characters says near the end of the film, energy is endless. It may exist in one type of state now, but it will exist in another in a few seconds, in a few minutes, in a few millennia. It may seem like each event in life is so unique and different from one another when experiencing them, but when seen one after the other in a random order like in About Endlessness, we can instead see how it is all just energy bent into different states like a universe wide Slap Wrap.
Film Review
Find Film